Unplug your family's digital devices and Jump into screen-free activities to spark creativity, strengthen communication skills, and support individuality.
Being "screen-free" means turning off your televisions, monitors, and phones and rediscovering life outside of the digital world by exploring and playing together. Today, the majority of American children spend five to eight hours a day in front of a screen and less than one hour outside, meaning the average child's sleep quality, attention span, and stress levels could be negatively affected by the tight grip of modern technology. Monitoring and limiting your child's screen time allows you to promote non-digital activities, like family cooking nights, berry picking, building a fort, creative writing, painting, exploring the town, or our favorite: playing sports. The First Tee supports this tech-free time initiative by providing outdoor activity programs while teaching values that build character and inspire daily play away from a screen.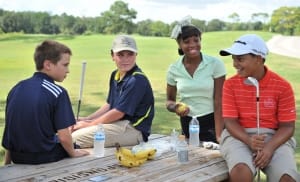 Promoting your child's involvement in outside activities has proven to improve general mood, attention, and memory while reducing ADHD symptoms like being easily distracted, lack of focus, or struggling with over-stimulation between school, homework, and online games. Playing outside allows your child to release energy in a healthy way, raise levels of serotonin production – our body's natural anti-depressant – and routinely soak in some Vitamin D. Involving your child in a sport program guarantees time every week for outside play, or creating family goals like reading before bed, Friday board games, or Sunday morning bike rides can build stronger family connections and allow for exploration of other interests while encouraging the development of individuality. Screen-free time can be beneficial for your child and the whole family!
If tech-free time interests you, consider registering your child for one of the 1,200 program locations of The First Tee working to reduce screen time across the United States.